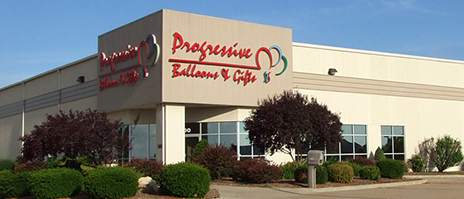 Our office and warehouse facility is located in Missouri, just west of St. Louis. Our location in the central United States enables us to ship to all continental US destinations within 3-4 business days via FedEx Ground Service.
Progressive Balloons & Gifts is a wholesale manufacturer and distributor of quality plush toys and gifts. We are a family owned business serving plush and gift retailers since 1985. Our thirty plus years of proven experience in the industry has allowed us to create many successful plush programs for national and regional retailers to suit the needs of their customers. We feel confident we can provide all retailers, both large and small with quality products, exceptional value and the service you deserve.
We developed the Progressive Plush line because we recognized the joy, comfort and security plush animals bring children and the young at heart. That is why we strive to provide our customers with high quality products at an affordable price. Our manufacturers work hard to find the best materials and the softest fur. The result of this hard work is our diverse line of cuddly and collectible plush.
Our Progressive Plush product line is full of adorable everyday and seasonal styles suitable for all gift giving needs. Our in-house team of designers work closely with our overseas manufactures to develop plush animals that are unique and full of personality. We keep our plush family growing by continuously updating our selection with fresh new ideas and unique designs. Be sure to visit our site often to see the newest members of our family.
This site has just a sampling of the quality plush animals we have available. To view our full inventory of Progressive Plush visit our Wholesale Store where you can view pricing and place an order. We are committed to meeting our customers' needs with great service and dedication. If there is a product that fits your specific needs and you do not see it here on our site, contact our Sales Department and we will be happy to discuss developing a retail program just for you. Our ever growing family ensures that we have something special for everyone!

© 2020 Progressive Plush. All Rights Reserved.